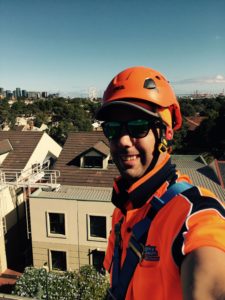 My name is Robert Biddle. I am the owner and founder of Squeaky Clean Window Cleaning that was started back in 2000. I am husband to Vanessa and Father to three girls, Jennifer, Jessica and Ellie. I am passionate about my family and my business.
I have four sisters and we all grew up watching our father run his own very successful family business. His passion for excellence and success left an  indelible imprint onto all of us and as his only son l admired the man and leader he was. I also admired his integrity that he displayed at all times. I also observed the great sense of achievement that he experienced as he took his business from just a dream with humble beginnings to becoming the clear market leader and the largest of its type in his chosen Industry. He was also recognised by his peers as being an innovator and leader with some new and creative ways to creating value for his clients.
This same passion also burns inside of me. That passion is to create and build a business of excellence that provides tremendous value to our high value clients and that is a great experience for everyone involved both my clients but also the people l partner with to deliver this vision to you.
And as my father, l have a deep commitment to honesty, hard work and a sense of the importance of providing real value for the trust people put into my company.
We are essentially a privately owned family run business and we are very selective with whom we invite on the team. Our window cleaners for example have an average of eight years experience cleaning windows and are really nice and professional people to deal with. We would rather turn away work than have someone who was not representing our brand well.
We approach each job as if we are cleaning our own home and we always look to find something a little extra we can do to show our appreciation for the work. Our aim is to work with  clients who we can develop a long term relationship with. When we are cleaning your windows we hope that you get a sense of the pride we take in our work and the satisfaction we get from doing a great job.
I look forward to meeting you and working out how l can best serve you today.